You are currently browsing the category archive for the 'Uncategorized' category.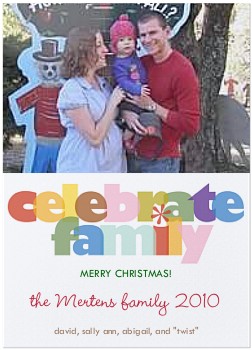 Celebrate Family Christmas Card
David's working 84+ hours a week through the end of November.
I'm working 60+ hours a week through the end of December.
We're both trying to train for a marathon, stay involved in church, hang out with friends, and find some time for just the two of us.
No time to blog. Sorry about that. Call if you can; we'd love to catch up. Otherwise, see you in '09!
It's official. I signed up this morning. In 127 days (and counting), I'll be running the Kiawah Island Marathon.
I cannot wait to start training! I'm sure I'll have more to say on this topic as time goes on, but for now, please pray for the strength of my knees and IT bands. Whew.
A brief post today to say that if you haven't watched all three Lord of the Rings movies in close sequence, you should. David and I watched one on Thursday, Friday and Saturday this weekend, and thoroughly enjoyed it! A heck of a lot different than watching one each December as they came out. At church on Sunday, we found out that oddly enough, Joe and Amy did the same thing–except they watched all three (extended-edition) movies in a row on Saturday. That's commitment.
Haven't watched any of LOTR? Oh. my. gosh. Start now! Even if you've never read the books (I haven't), the movies are fantastic. They'll stir some sort of emotion inside of you because they deal with a quintessential battle of good vs. evil. Frodo Baggins, a hobbit, inherits the "one ring" of power that has the ability to destroy the human race. The ring itself must be destroyed in order to end the evil that created it by being cast into the fires of Mount Doom. Frodo and a host of eight others set out to the land of Mordor to destroy the ring encountering all sorts of evil–and some good–along the way. Spectacular tale of how far good will go to defeat evil.
There isn't one thing about the movies that I don't like–except maybe that there isn't a fourth installment.
You know how it takes about three to five hours for sun exposure to "set in"?
Yeah…
Who has been to Myrtle Beach? Wow! Everyone? It sure seems that way, at least when I go there.
Myrtle is a busy, busy beach in the summer. I've been with David's family during the winter, and it's pretty quiet. Who wants to lay out in the winter, though?
Honestly, I didn't think quiet beaches existed on the east coast during the summer…
Until today.
Kristy and I went out to Tybee Island beach, and it was wonderful. Even though it was 95F or more outside, there was a steady breeze and intermittent clouds that blocked the sun. We intended to stay out for an hour or two, but lost track of time a bit. We left after two and a half hours or so, and it was such an awesome time of fellowship, relaxation and UV goodness.
Don't worry, Mom, I was wearing spf40!
Not to mention, by the way, during our entire time out there, maybe 15 people walked in front of us. Fifteen! There were no Frisbees flying at us or bocce balls hitting our chairs or sand flying in our face from a neighbor's towel–a masterpiece of a beach, really.
Don't tell too many people, though!
I'm sure I'll be back soon, with David, and will take a photo to use as the header of this site. Can't wait!
Let me preface this post by saying that David and I truly did enjoy our time in Pittsburgh, and we love the friends that we made while living there. We hope to see you all soon!
That said, I didn't realize how much I missed the South and true, southern hospitality–and just plain friendliness. Imagine! Complete strangers smiling and saying, "hello" and dolling out compliments for no reason other than kindness. We'd been away from it for long enough to forget what it was like. I'm loving this!
So, to recap our first week in Savannah, I've put together a list (and those who know me well know how much I love a good list) of some of the things that have happened since moving in; some are unique to our experience in Savannah so far, and the rest are somewhat random:
Friday, May 30
–Bagel in Paradise: Like "Cheeseburger in Paradise," just more breakfast-y. We went to the Savannah Bagel Cafe for breakfast and ended up getting into a conversation with the owner and his staff, and now we have bagel-making friends. Love it! They even cater. Not sure when I'd call a bagel cafe to cater an event, but hey, I hope to use that service soon! The bagels were amazing. Anyhow, our experience there was definitely unique to the South: strangers befriending strangers and meaning it. It's refreshing!
–Comcast: "My bad!": We got our TV and Internet set up on Friday morning and had requested Comcast's most basic cable (channels 1-17) for $9 per month. We're not huge TV watchers–aside from the news and the occasional reality show, so why pay for channels we'll never use? As it turns out, someone on the Comcast end mis-coded our apartment's cable order, so we're paying $9 per month for over 100 channels. What?! We immediately pointed this out to our technician, but he said the fault was on Comcast's end and that we can enjoy the service until it's caught. Hmm. Anyone else feeling guilty?
–Our stamp: We finished, for the most part, unpacking everything through the course of Friday morning, and getting settled felt great. We really enjoy putting our mark on where we live (not in the canine sense, of course), and decor is one way we do it. Too fun! But first, we had to clean. I'm not a fan of clutter, so collapsing all of the moving boxes and getting them out of sight was paramount. Instead of dropping off the cardboard at a recycling facility, we're hanging on to all of it in case we run into anyone else in need (our boxes were given to us by friends). Know anyone in the greater Savannah area looking to move anytime soon? Does he/she need 30-40 boxes? Comment!
–Farewell Behemoth: We returned the 26′ U-Haul truck, thank goodness. Our directions to the U-Haul center instructed us to make a U-turn at a red light. Right. Twenty-six foot trucks don't make U-turns. We turned left at the light and toured all through a retail store's parking lot, eventually turning around and getting back. Then we got pseudo-chastised by one of the employees for returning the truck with more gas in the tank than when we got it. He offered to let us "take a joy ride around the block for a half hour," but we passed. Adios!
–Is that a McDonald's sign? So, if you've been to Hilton Head, you'll know what I'm talking about here. There's some rule applying to Hilton Head and Savannah (other places too, perhaps) that says "all signs along the road for all businesses mustn't be more than five feet tall, must be wooden and cannot be brightly colored." Seriously. I saw a sign on the side of the road for something, but until I was in really close proximity, I couldn't tell that the muted yellow and red paint on wood was for a McDonald's. Talk about dangerous. I don't know about Savannah, but I do know that there are quite a few pedestrian accidents each year in Hilton Head because tourists are looking for signs instead of looking at the road ahead. Scary.
–Crash into me: After turning in the U-Haul, we were introduced to true beach/tourist traffic, aka people not knowing where they're going or at what speed they should be going, and paying far too much attention to the side of the road instead of the car(s) and people ahead of them. We weren't more than five minutes out of the U-Haul parking lot before a car a bit ahead of us in line decided to stop. The cars behind him/her were cruising at 45mph. Add those together, and you get a rear-ending accident. What on earth? We turned off of that road to avoid the wreck, took a side road, then planned to come back onto the road 200 yards down or so. While waiting to turn left back onto the road, another car, not paying attention apparently, nearly slammed into the wreck scene. I am so glad that driving slow is ok with me these days. Whew!
Saturday, May 31

–Get me out of here! In college, David and I did our own separate grocery shopping, of course, but we both did it at Wal-Mart. We thought it was great: low prices, close to the student apartments, one-stop-shop, you know the drill. Well, we hadn't been back since getting married because there wasn't a Wal-Mart Super Center within a 20 minute drive of our place in Pittsburgh. In Savannah, though, if we want discount groceries, we can't turn at run to Aldi for savings, it's Wal-Mart, hun. We made a short list of some non-food items along with a grocery list for the week and headed off to the store. Two hours later we emerged, exasperated, with some battle wounds from shopping carts driven by children and distracted adults and no produce because of the fruit flies swarming the bins. It was a typical Saturday at Wal-Mart, but a totally a-typical shopping experience for the two of us. It's open 24 hours, so we might try the graveyard shift next time.
–Crab bully: In the evening, we both got tired of organizing things and of just being cooped up in the apartment. We walked out on the boardwalk behind our apartment over the marsh and out to the waters edge (where my current header photo was taken). We headed back later, and since it was low tide, we were able to jump over the boardwalk's rail and play in the sand a bit. Little did we know that hundreds–yes hundreds–of fiddler crabs made their home in the marsh's moist sand. They all came to the surface and started skittering around (sounded like Rice Krispies cereal with milk). David thought it'd be fun to chase them around; they won in speed, hands-err pinchers-down.
Sunday, June 1

–Praise God! We went to FBCI Sunday, the church where Travis and Kristi (from the "Day of Wild Happenings" referenced in a previous post…I'll probably reference this a lot) are members. It was so nice to meet more people from the area and have a sense of Christian fellowship right away instead of hunting from church to church to church. Will this be our church home? We're not sure yet, but we're certain that we've met some incredible people that will be what makes Savannah home.
–I'm feeling lethargic…Before we let it slip our minds, we joined the YMCA–no more than a mile from our front door. To sign in, you input a six-digit code assigned by the club, then a get your hand scanned! Matrix anyone? It felt so great, though, to be back in a gym and working out. Although, after reading today (Thursday) that bodyweight exercise is potentially a lot better than working out with tons of extra weight, I'm starting to wonder. And for those of you who go to that "reading" link, CNN.com led me there, ok?
–What were they thinking?: After an intense workout at the Y, we headed to our apartment's pool to cool off. The water felt great, and it was a beautiful sunny day. Then we started looking around at the other folks–and listening. We heard and saw intense swearing, smoking and heavy drinking (in and out of the pool…I had to dodge a cigarette butt in the water yesterday), amongst other antics. There were kids around, mind you. It was sort of a weird situation. I'm all about people making their own choices; that's why God gave us free will, after all. But my goodness, keep it away from the kids and innocent bystanders. Yikes!
–I can't believe we have that many quarters! Our apartment doesn't have a washer and dryer included. It has the hookups, but no units. We ordered them through the apartment, and they were supposed to be here when we arrived, but oops, not the case. We sorted it out with the office, but for part of the month of June, we'll be doing laundry at the apartment's laundry facility. I haven't done laundry in a laundromat since undergrad, and that's been a few years. Inflation's a killer! When I washed clothes on campus, it was either $0.50 or $0.75 for a washer and the same for a dryer. Not so now! It was $1.25 for each–quarters only and no change machine. Luckily, we save all the change we find on the street and in our pockets in a tin by the sink. We had $9.25 in quarters, but we can't wait for our machines to arrive.
Monday, June 2

–Married to an engineer, this is my life: I love David. I love that he's an engineer. Truly, I do. He's an incredible problem solver and thinks before he speaks. Of course he has tons of other incredible qualities, but that's another post for another day (honestly don't know that I could fit it all in just one post, but I digress). Being an engineer also means moving around–which we've already done–and long hours–which we're just now beginning to experience. For most of his time in Houston, David was working 55-hour weeks. I was living in Greenville, SC at the time, so I didn't realize how long an 11-hour day really was. Those extra hours proved beneficial, though: he got great experience and was able to pay in full for my engagement ring, our wedding bands, and the honeymoon. Thanks, hun! After he worked 40-hour weeks for 15 months in Pittsburgh, I wasn't sure what Savannah would hold. For the time being, it's 10 hours per day, five days per week, and it seems that it'll be the starting point for longer hours in the future. I need to get some serious hobbies!
–Do I know you? I was out on my first day of errands in Savannah when out of seemingly nowhere I heard, "Well hey there! I know you. Isn't it great to see someone you know out and about?" It was a gal I met at church the previous day. Too cool! I'm recognizable!
–Oooooweee! I guess that's how you'd spell it. The ladies at the post office (after my new friend left) complimented my hair and my wedding ring. "Oooooweee your hair's purdy–and that ring! My word, so unique!" I was smiling so big it hurt. My main love language is "Words of Affirmation," so compliments and praise do me a world of good. That just about made my day.
–Oh yeah, I forgot about these: Southern thunderstorms in the summer are brutal. I had forgotten. I remember last summer while in PA watching the weather channel meteorologist pointing out all of the red (severe) patches of "precip" over the South. It didn't really click until Monday night when it seemed like lightning was striking the parking lot, and hail was in the forecast. Yikes! It was sort of fun at first, but as it got more and more intense, I could only think about how hurricane season started on June 1, and we're on the coast. Hold on to your hats!
Tuesday, June 3

–Doesn't anyone pay attention? On my way to the post office–CRASH–another wreck. Come on, people. Slow down. It was right in front of the police station too.
–Purdy, purdy, purdy! I went back to the post office (with my Mary Kay business–even though I've stepped down as far as intensity goes–I mail out products to customers fairly consistently) and was greeted by more curly hair compliments. More smiles from me! I'm wondering what the humidity is going to do to this "cute" hair of mine…it might go all 70's afro on me.
–Take me out to the softball game: Travis' church softball team (the same ones that helped us move in) had a game Tuesday night, and we went to support them. It was a lot of fun despite the game's outcome (26-6, forfeit). I met a couple of other gals from the church, and David got recruited to the team. It's a good fit because their team color is orange. Gooooo (FBCI) Tigers!
Wednesday, June 4

–Sorry, kids, didn't mean to get you in trouble: After work yesterday, I went down to the pool for an hour or so. I'm working as hard as I can to get this pale dermis to darken up a bit. Granted, I've been wearing 40spf, but otherwise, I'd roast! It's a slow process, but for those of you who came to David's and my wedding, you know I can be somewhat tan. Anyhow, I got down to the pool, took out Cold Mountain (almost finished reading it), got into the pool and propped the book up on the side. There were two kids on the opposite side of the pool, but no one else. One of them did a cannonball into the water and produced quite the splash, getting my book a little wet. No worries, it was still readable, but the kids' parents flipped out. "You're sitting out, young man!!" I'm sorry kid. I didn't mean to…
–Turn down the heat! As I'm sure you've read about already, we went on our first run in the Savannah heat yesterday. Still recovering.
Thursday, June 5

–Did the rain bring these out? Remember those fiddler crabs? They're just like worms. Not following? Well, you know how after a heavy, soaking rain all of the earthworms show up on the sidewalks only to be scorched by the sun the next day? Apparently, that's what the crabs do here because our sidewalk had several of them scattered about, crusty and motionless. It's a shame because they're waaaay cooler than earthworms.
–Is lycra business casual? David and I have opted to move our date night to Thursday nights while in Savannah, at least for the time being. In Pittsburgh, we'd go to Panera Bread once a week to reconnect and hang out for a few hours, get some ice cream from Marble Slab or Brusters, then head back to the apartment to crash early. We both like to dress a little nicer for our date nights, but my gosh. What on earth do you wear when all you really want to have on is a bathing suit (while of course laying by a pool)? For right now, I've got on jeans (I'm thinking they're technically not allowed from June-September, but we'll see) and a polo, and I hope that suits. I only own one pair of non-athletic shorts, and they're from undergrad. Oh boy…someone needs to go shopping.
And for now, I need to get ready for date night. We're running a 5K on Saturday, so I'm sure I'll post about that in the coming days. Keep an eye out!
One thing I failed to mention was the glorious driving weather. We didn't run into one patch of rain, no high winds, and the sun was shaded off and on by the clouds. Beautiful, I tell you!
When we were nearing Charlotte, North Carolina and realized that it had already taken about 8 hours to go 500 miles with at least another 250 to go (including out trip out to Columbia and back), reality sank in. We were in no way, shape, or form going to make it to Savannah in 11.5 hours. Once we accepted that–and it took a bit for both of us to be ok with it–we picked up our spirits and headed off to grandma's.
My grandma is the epitome of a southern cook, and when some of her own are coming into town, she really puts out a spread. In fact, I had some left-over macaroni with lunch today (five days later)! We arrived around 3:30pm and were welcomed with big warm hugs from my grandparents, smiles and a wonderful meal. We had pork and gravy, potatoes, peas, brown rice, macaroni, waldorf salad, broccoli salad, cornbread muffins, sweet tea and strawberry pudding (made just like banana pudding with the Vanilla Wafers and everything–mmmmm)! I may be leaving something out, but you get the idea. It was delicious! The conversation was great, and it was just altogether wonderful to get away from the road and relax.
We only stayed for an hour, but it was enough to completely recharge our batteries. Back on the road at 4:30, we embarked on the most boring stretch of the drive. It wasn't really tough, just really, really dull. We were on I-26 for a while, then we got on I-95 for a long while. The entire way was pretty much flat and sparsely populated, but at least there were radio stations to keep us company!
We stopped one final time for gas just before the Georgia border, and we were off again. I cannot wait until gas prices go down or we get bikes…or both!
A few hours later, we were greeted by tons of palm trees, the lovely smell of a paper mill (not so lovely, mind you), and bridges; we were within Savannah city limits! By this point, it was close to 7:30pm, so we'd be on the road (minus our Columbia stop) for over 14 hours, so we were thrilled on many, many levels when we got into town. Another 20 minutes or so of maneuvering through the outskirts of downtown, and we arrived to our apartment complex.
We met one of the apartment reps outside for our keys (she lives in the complex herself, and since the office closed at 5:00pm, she offered to bring our keys to us–thanks, Melissa) and headed back to our new home. David parked the U-Haul, and I found a spot close beside. Moments later, I got out of the CR-V and was smacked in the face with some wicked humidity.
Mind you, I haven't spent any substantial time in the south for nearly a year and a half, so maybe the 90% humidity was normal, but still. Whew! It was only 75-80F outside (yes, at 8:15pm, it's still that hot) compared to the daily high of 90+, but the humidity made it a heck of a lot warmer. Add to that the fact that we were unloading both cars and the truck (oh yeah, David was towing the Mazda behind the 26-foot truck–fun times), and you've got a hot, sweaty situation. Thankfully the sand gnats/deer flies/etc weren't out to get us.
We spent an hour or so unloading all of the small stuff (read: anything but furniture), then Travis and gang arrived. Who is Travis and who is his gang? Well…
Remember the day of wild happenings back in March? We ultimately met with the pastor and his wife from Iron City Church in Pittsburgh. They recommended that we check out a particular church here in Savannah and gave us the contact info for the pastor. David emailed the pastor, and he responded with info about a Sunday school class for our age group. We emailed the Sunday school leader (Travis), and after some great phone calls, he offered to gather up a group of folks to help us move in!
So, back to the story, we unloaded all of the non-furniture items (thank you to Stacy and Kacie for all the boxes) when Travis rolled up with his wife and nearly his entire church softball team. Whoa! It took maybe 15 minutes for all of the furniture to get taken inside; it was awesome. We were all disgusting messes, but we had some great fellowship before parting ways.
David parked the truck in a recreational vehicle lot within our complex, and we got to work on unpacking. Let me start by saying we love our new apartment. It's a little bit larger than the one in Pittsburgh, but it feels huge. We have a screened in balcony (thank goodness for that!), ceiling fans in the den and bedroom and a great floor plan. Right behind the apartment is a boardwalk out over the marsh, and we vowed that night to go out on it before the work week began.
We were spoiled by our old apartment as far as storage space goes, though. But we were determined to make it all fit. Once 2:00am rolled around, we were both pretty delirious and tired of boxes and packaging tape and scissors and drawers and all other things that = organization or unpacking (I haven't pulled an all-nighter since grad school, and that's been nearly two years!), so we went to bed.
So we made it! More info soon, but just so you know, we're here safe and sound, and the stack of packed boxes is shrinking while the stack of flattened boxes grows. We'll be all unpacked soon!