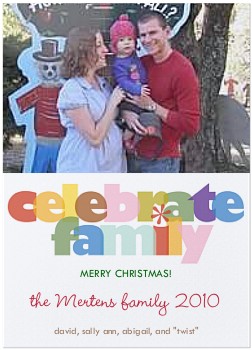 Celebrate Family Christmas Card
…but not staying here at running for the prize.
I've been posting to the new blog since December 2. Check it out. Really. Now.
David's working 84+ hours a week through the end of November.
I'm working 60+ hours a week through the end of December.
We're both trying to train for a marathon, stay involved in church, hang out with friends, and find some time for just the two of us.
No time to blog. Sorry about that. Call if you can; we'd love to catch up. Otherwise, see you in '09!
As hoped, Clemson pulled it out and beat the Citadel (45-17), NC State (27-9) and SC State (54-0). Yes, all of those were easy games and they were expected to win, but hey, three W's to offset that initial L against Alabama. So, "GO TIGERS!" My blood runneth orange again.
Twenty-one days without a new post. Sorry about that. This little thing called life keeps happening in a great way and tends to keep me away from the computer when at all possible. But I think you're all deserving of an update:
Newlywed glow — Our friends, Kirby and Meredith, came down for Labor Day weekend after only being married for six weeks. We were impressed that they were even willing to leave their house after such a short time of wedded bliss, but hey, we were thrilled to host them here in Savannah. We had a great day at the beach and exploring downtown Savannah before watching the depressing Clemson vs. Alabama game at Wild Wings that prompted my previous post. So glad that things are looking up, up, up for the Tigers now! Later in the weekend, we went out to Tybee Island for the Labor Day Beach Bash and fireworks show. The fireworks were incredible. It was a blast to be around such a great couple that weekend.
His team name is "Henderson" — David's on a soccer team here in Savannah started by Travis Henderson…hence the name. I just cheer based on jersey color, "go blue!", instead of "go Henderson!" I can't sound like I'm cheering for Travis the whole game. David's really enjoying being back on the field again and honing his skills. He's hoping to teach me some basic moves so that I can be on the indoor league in early 2009. We'll see, folks.
Parental visit — I love my mom, and I love when she's in town. She came down to Savannah not too long ago to "visit, cook and shop." Awesome! She cooked two fabulous meals for me and David, and she and I got to go shopping downtown. Too fun! My mom is down nearly 30lbs and is looking fan-stinkin-tastic these days. It's a blast to go shopping with her and see how great she looks in everything. Go mom! Come visit anytime!
A grandparental visit — My mom left on Friday morning, then I worked all day, then my mom's parents came to town. They had been in Hilton Head for a conference and thought that a quick jaunt to Savannah would be nice; David and I agreed. They treated us to Papa's for dinner–delicious–and we got to get all caught up with them. They're about to embark on a trip to Nova Scotia…by car. I wholeheartedly respect their patience with being in a car that long, but then again, when you have a great travel buddy, cross-country driving can be fun.
Saw the whole thing, dude. First you were all like "whoa," and we were like "whoa," and you were like "whoa…" — As spoken by Crush from Finding Nemo. For those of you who haven't seen the movie (you should rent it tonight), Crush is a sea turtle, and David and I had a couple of pretty cool sea turtle experiences recently. Not only did we get to observe two hatched sea turtle nest excavations, but during one of those, a live sea turtle that had been trapped in the nest for at least five days was uncovered. That night, he was released back to the ocean. How cool to be so close to an endangered species. Aside from that, David and I were both blown away by that little guy's (or gal…you won't know until he/she is 35 years old) determination. No matter how many times the waves pushed him back onto the shore, he–after at least five days without nourishment of any kind–kept fighting to get into that water knowing that he had at least a 36-48 hour swim to safety. Unreal. Certainly refreshed my determination in areas of weakness in my life. Only 1 in 4,000 baby sea turtles makes it from the egg to adulthood. Go little guy, go!
Upcoming excitement — This Thursday, September 25, is exciting for at least three reasons. First, it's Gap's payday-woo hoo! Second, Cold Stone Creamery in Savannah is having the "World's Largest Ice Cream Social" from 5-8 with FREE delicious ice cream creations put together by two make-a-wish children. Donations accepted of course. And third, Grey's Anatomy starts up its 5th season with a two-hour premiere. What could be better?
Mud + obstacles + race + 5,000 competitors = fantastic weekend — David and three guys from his work joined forces to create a team to compete in the US Marine Corps Mud Run at Ft. Jackson last weekend. When I thought of what a "mud run" would look like, I definitely pictured 4.5 miles of dirt and mud, but not in pits chest-deep. I didn't picture my husband and his team having to climb up dirt/mud mountains and go under logs that laid right on top of previously mentioned mud pits. It took David a couple of days to get all the dirt out of his ears. But you know what? It was a great time! I wanted to be in there with the guys, competing. David and his team really enjoyed their time and are already talking about how they'll beat their 1:02:54 time next year.
Speaking of athletics — David and I are still training for our respective long-distance races in December, but it's been anything but easy here in Savannah. Between the heat (which thankfully seems to have broken for at least this week), humidity, lack of running trails/shoulders and hills, aggressive beach traffic and extremely busy schedules on our end, each run is like a little victory. In fact, as soon as I finish this post, I'll be heading out the door to tackle one of those runs and accomplish a big victory. Should be fun!
Dear Clemson,
All during my time as a student, I cheered for your football team. I was either at the game or watching it on TV, and through thick and thin, I was a diehard fan. I bled orange.
When I moved to Pittsburgh, I was pretty distraught that I wouldn't be able to make it to any games and would only be able to watch a few on TV due to a limited cable plan, but I faithfully followed Game Tracker online when only ESPN-U was covering the games.
Through our six year relationship, dear Clemson, I've suffered a number of heartbreaks. They've come in the form of missed field goals (from short distances), fumbled hikes, and huge upsets–even losing at home in triple overtime. You sure know how to ruin a tiger's day.
Yes, you've given me some great times…some wonderful victories, and truly, up until this year, those have been enough.
But I've moved to Savannah–UGA country–and put my reputation on the line for you. For Saturday's season opener against Alabama, I wore orange along with 10 other Clemson fans to Wild Wings to watch you, ranked 9th, triumph against a team ranked 24th. I had so much excitement and so much faith.
Then you managed to let Alabama stomp all over you, and ultimately, me. Losing 34-10 in an upset on ESPN's gametime show is no way to kick off a season.
You broke my heart, Clemson.
I want our relationship to work out, but unless you win against the Citadel, NC State, and SC State, I'm not sure that it will.
I want to have faith in your abilities. Help me believe!
Sincerely,
A dejected, but hopeful fan
So it's been 20 days since my last post. In the past few weeks, David and I have kept plenty busy:
1. 1, 2, 3, 4…1, 2, 3, 4…C L E M S O N T I G E RRRR S! – with football season right around the corner, the alumni group in our area is starting to have some functions, and we're planning to go to as many as possible. Clemson fans around Savannah are few and far between–I'd say the ratio is about 15:1 in Georgia/Georgia Tech fans to Clemson fans. Too much black and red and black and gold. Yuck! We're planning to represent in our purple and orange soon enough.
2. Hotel Mertens – just shy of nine months away from getting married, Jo and Craig came down after visiting family in Hilton Head. It was great to play host, and we look forward to doing it again. If you're going to be in the Savannah area, just give me or David a call; we'd love to set you up with free lodging!
3. Faith – a little over a month ago, I started a Beth Moore Bible study called Believing God with a group of gals on the islands. It's been pretty incredible so far, and through the study, I've decided to start attending BSF in September. "BSF" stands for "Bible Study Fellowship." It's an international, non-denominational Bible study that meets weekly from September to May of each year. In the course of seven years, you make it all the way through the Bible, analyzing scripture line-by-line. It's not for everyone, I've been told, but it sounds like it'll work really well for me. Can't wait!
4. Run, Mertens! Run! – David and I are about three weeks into our half marathon/marathon (respectively) training, and it's going so-so right now. It's still so hot in Savannah that we either have to run on the treadmills at the gym or run at 4:00am before there's even a glint of sunlight (and yes, we now have a headlamp so that I don't fall down…again). The heat is showing signs of breaking, though, as this whole week our highs are in the mid to upper 80s with the heat index in the 90s. In previous weeks, that index has been in triple digits. So glad that fall is on its way!
5. I only burn what in a day!? – In the past six years since I started working out with rowing and ultimately running, I've never really gotten a handle on what I should be eating to fuel the amount of activity I do on a daily basis. I opted to go to a nutritionist, but before my appointment, I had to get my resting metabolic rate (RMR) taken. Essentially, the RMR is the amount of calories you burn when you are completely at rest. I was in a reclined comfy chair for 15 minutes while the test was going on–definitely relaxed and at rest. Based on my height, weight and age, the doctor administrating the test estimated that I burn around 1400 calories at rest. Wrong! I only burn around 850. I couldn't get to the nutritionist fast enough after that to figure out how many calories I could eat in a day and not gain weight over time–around 1300-1400. So much for that "based on a 2,000 calorie-a-day diet" note on every packaged product's nutrition label. It's been an interesting adjustment so far, but it's going well. Getting my RMR checked really opened my eyes to what I'm up against. If you have struggled with weight gain or knowing what you should be eating, definitely pursue a nutritionist and get your RMR tested.
6. Pedaling like crazy but going nowhere – this time around in marathon training, I'm taking a slightly different approach by cross training more frequently–specifically biking. Problem is, I don't own a bike. I've been using the YMCA's "spinning" bikes one or two times per week, and it's been pretty awesome. The spinning room is dark except for black lights on the ceiling, so if I wear all black, I'm pretty much invisible–besides my teeth if I smile and my shoes. I'm hoping that training on a spinning bike with pretty heavy resistance will prepare me for riding on a real bike later on down the road.
7. Clouds and wind are evil – Well, only when the presence of both makes you decide to not wear sunscreen while walking on the beach. Saturday was an overcast day–the first day of no rain since the beginning of Fay–so David and I opted to go out to Tybee Island beach and walk for a bit. We packed a picnic lunch, but opted to walk on the beach for a few minutes first. Well, a few minutes turned into an hour or two. It was in the mid-80s out with extremely strong winds (considering there wasn't a storm nearby) of around 30mph, so it felt fantastic, and neither of us realized how badly we were getting burned…until about four hours later. We're recovering and will never underestimate the sun again. Whew!
8. Working hard for the money – I love the Gap. I think that deserves some repetition action: I really love the Gap. My job there as brand logistics expert is fun, a little challenging, rewarding and exciting. Plus! I get a fantastic discount on the clothes, get to work in the middle of downtown Savannah (gorgeous), and get to be a part of a wonderful leadership team. And I get paid to do it. So awesome! I'm still working for Clemson too and have the most flexible boss around. It's so nice to be able to work right out of the home office. So both jobs have been keeping me busy. David's working pretty long days right now, but starting in the middle of October, he shifts to 21 days of 12-hour shifts each day with no weekend breaks. Just three straight weeks of work. I still can't picture what that will be like…intense I'm sure.
9. Livin' on a prayer – so much is going on in our lives, our family's lives and the lives of our friends that we're constantly praying. Some are getting married, some are moving, some are expecting a first child really soon, some are changing jobs, some are struggling in various areas, some are triumphing in areas and on it goes. We love our friends and family dearly and wish we could see them all more often. Know that we keep you in our thoughts and our prayers, truly.
So yes, that's kind of what's been going on around here in the past 20 days. We're looking forward to the holiday weekend as we've both got Monday off of work. I doubt we'll go to the beach, but I'm pretty sure we'll be exploring Savannah. What a great place to live!
So marathon training starting yesterday morning with a nice 3-mile run. This morning, I faced the same short distance, but with a rather different outcome.
The alarm went off at 4:10am, and David and I got up as quickly as we could, got dressed and headed out the door. It was dark, and without many streetlights, we had a tough time really seeing the road. Since there were few cars (we maybe saw 10 during the 30 minutes we were out), we were able to run in an actual lane of the road–away from the treacherous shoulder.
Somewhere around mile 2, we were approaching a red light where we planned to turn right. We both shifted over to the right in preparation for the turn, but apparently, we shifted too far. I was on the shoulder-side of the lane, and when we moved, my right foot went into a hole between the end of the road and beginning of the shoulder. I had a good bit of momentum going, so I fell pretty hard onto the pavement–catching myself with my hands and knees.
Since my right side was tripped up, the blunt of the fall was felt on my left side. David heard the fall and turned around to help. I sort of laid there for a minute making sure I didn't break my right ankle. Once I knew it was ok, my brain shifted its pain reception to the other parts of me that got scraped up.
I'll spare you the details, but my left knee and hand were in pretty nasty shape since when I fell, I slid forward on the pavement. I broke a blood vessel in the bottom of my left palm and had to tie my faithful ole red bandanna over my knee to slow the bleeding.
Then what did I do? Like any good trooper, I finished the run with David at my side. Yeah my hands burned and my knee was throbbing, but I think there's a little masochist inside of every runner.
I've got another 3-miler tomorrow. Should be interesting. This weekend? After our Saturday morning 6-miler, we're going to buy headlamps. No more skinned knees, please.
From my wedding. Just needed a header change, and I miss those girls.
It's official. I signed up this morning. In 127 days (and counting), I'll be running the Kiawah Island Marathon.
I cannot wait to start training! I'm sure I'll have more to say on this topic as time goes on, but for now, please pray for the strength of my knees and IT bands. Whew.
To those of you who have my mom's poppyseed chicken recipe, you can replace all of the naughty ingredients with their cheaper, healthy substitutes. I tried it recently, and I couldn't tell a difference:
Replace:
-butter with applesauce (preferable the plain "no sugar added" kind)
-sour cream with 8oz plain, fat-free yogurt (not vanilla, just "plain")
-Ritz crackers with generic low-sodium "snack crackers" (that's the Wal-Mart name for them)
Oh, and for those of you who do not have the recipe but want it, let me know!
Go healthy!